Wendell Choate is a struggling Deaf man who wants nothing more than a comfortable life. When Caleb Adams hires him to work in his chocolate shop, the big bear of a man appeals to his sweet tooth. Does Caleb's interest end at closing time, or is there a chance he wants more?
This book was a cute romance story between two men. Nothing special, nothing spectacular...just a cute story.
The character development in this book was just okay, there were only two characters...didn't go into their lives all that much, kind of just focused on the two of them. It was very much a typical romance novel, reminded me a lot of the Harelquin romance novels.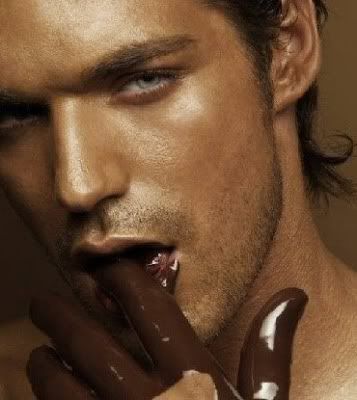 I will say one thing though....after picturing the above the entire time I was reading....I craved chocolate for a good week!
The sex in this book was just MEH.....and it had absolutely nothing to do with the fact that it was gay sex...for a straight woman I actually think gay sex is very hot. There was a lot of lead up to it, which made me think 'Wow! When they actually DO have sex it's going to be EPIC'......but unfortunately it was not...
It's a free download....so if you are into a cute romance between two men then this book is for you....just don't expect a lot of hot steamy sex....because you will be disappointed.
About the Author: (From Goodreads)