Killers Anonymous is a fictional series of short e-stories that follow murderers, psychopaths, and serial killers on their road to recovery. In each volume, you will meet a new member of the support group as they tell their stories and share their personal struggles with the demons within.
My Rating:
What a creepy, disturbing short story!! It fits in perfectly with our

"ZOMBIES, THRILLERS & KILLERS"

theme this month.
Kachur really captures the mind of a serial killer. She tells the story from the serial killers perspective and explains why they have done what they have.
Now, I do not give anyone who could commit such disgusting acts of violence sympathy at all...there are ways to deal with past issues other than killing...but the way she told this story from the killers perspective *almost* makes you feel sorry for him. He has gone through a lot in his life.
The only issues I had was that is was way too short! I got completely invested in the story and it was over before I knew it! Oh! ....and there was something I just didn't get........this is a SPOILER ALERT...why would the help group not turn him in for the crimes he committed? Why would they just allow a killer to roam free...he should continue going to this group for help...but for the safety of the rest of the world....keep him locked in a safe place until he can prove he is no longer going to kill.
Anyways, now that I have ranted about that small issue I had. This book was great! I wish that I had the guts to be a criminal psychologist, to really know what goes on in the mind of a killer. It just fascinates me how their mind can work so differently than others.
If you are also into criminal minds I would highly recommend reading this short story. I cannot wait to read the next volumes!!!
About the Author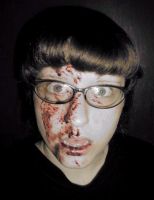 Rhonda Kachur, AKA "Rhonny Reaper", is a Horror Blogger, Author, and Licensed Practical Nurse from Cleveland, Ohio. She runs the Rondo Hatton Award nominated horror blog DollarBinHorror.com and co-hosts the weekly live horror podcast Dollar Bin Horror Radio. She's written short stories for multiple publications and has edited two anthologies of her own, Rhonny Reaper's Creature Features and Rhonny Reaper's Roadkill Café, both of which can be found on Smashwords.com and Amazon.com.